European Citizen's Initiative "Save Cruelty Free Cosmetics - For a Europe without animal testing"
---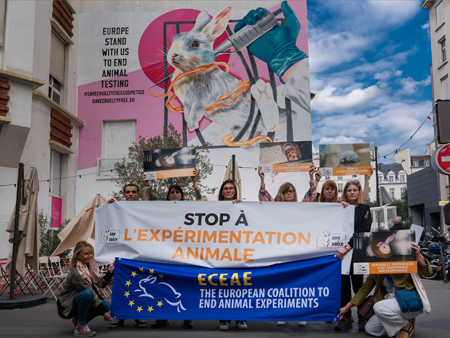 Together with Eurogroup for Animals, HSI Europe, Cruelty Free Europe and PETA we organised a European Citizen's Initiative (ECI) - a mechanism for people to demand new legislation from the European Commission. On 31st August 2022, one year after the start of the campaign, more than 1.4 million people had signed the ECI, making our voices – and the voices of animals in laboratories – heard. Thereof an incredible 1,217,916 signatures were validated. It was a joint effort by many groups, organisations and individuals showing the Commission that the people in Europe don't want animal experiments in Europe. On 25th July 2023, the European Commission responded to our ECI, see our joint press release
here
.
More information on the ECI >>
Campaign History - Cosmetics
---
In 1990 the European Coalition to End Cosmetics Tests on Animals (now the European Coalition to End Animal Experiments – ECEAE) was established by leading animal protection organisations across Europe, specifically to call for a ban on the cruel use of animals to test cosmetics in Europe. This set in motion a high-profile campaign, symbolised by the iconic, larger-than-life laboratory rabbit Vanity, and widely regarded as one of the most successful European lobbying campaigns ever. Vanity and her European cousins toured throughout the UK, Denmark, France, Belgium and the Netherlands meeting politicians and attracting a huge amount of public attention to our campaign.
In 1991, we organised a rally at the Place de la Monnaie in Brussels . It was attended by ECEAE members and thousands of supporters arriving in coaches from across Europe. The march was the highlight of two years of intensive political and public campaigning.
The long way
---
A year later, in 1992, the European Parliament took an historic decision and voted to end cosmetics tests on animals throughout the European Community. However the campaign suffered a number of setbacks – thanks in part to the powerful cosmetics industry which was vehemently opposed to any proposal for a ban at the time. It was to take almost 20 years of hard campaigning by the ECEAE to finally achieve this in 2013.
A ban was finally negotiated in the European Union in February 2003 which saw a phased approach agreed. The first stage was implemented on 11th March 2009, when the 7th amendment to the Cosmetics Directive brought into force two bans, and it became illegal to test cosmetic ingredients on animals anywhere in the EU and to sell or import into the EU any ingredients to be used in cosmetics tested on animals after that date. However, three types of animal tests were exempt from this until March 2013 in order to allow non-animal alternatives to be validated.
No Cruel Cosmetics campaign
---
In 2011, the European Commission's scientists recommended delaying the final part of the ban for up to ten years to allow alternatives to be developed. The ECEAE immediately launched our dynamic No Cruel Cosmetics campaign and set about making the case for the ban. With the support of politicians, cruelty-free cosmetics companies, celebrities and quarter of a million concerned citizens Europe has listened and the ban finally came into force in March 2013.